Last night November 24, 2013 was a night to remember on ABC!! The American Music Awards aired for millions to watch. If you are like me you were right there watching for all the red carpet fashion hits and misses and there were quite a few. I also muscled through the show to catch some of the performances (my faves were Miss Ariana Grande and King Timberlake of course!) So let's break down the looks for the evening.
Nicole Richie
The socialite and design powerhouse rocked a beautiful Emilio Pucci gown. The tank inspired gown boasted the popular hue of white that evening with cutouts on the side. Finishing the ensemble she paired it with a House of Harlow Jude Chain Fringe Calf Hair Clutch costing $295. Like another star who is mentioned below, once Nicole turned around, the designer showed off a daring, low cut back to her gown. She always leaves me speechless with her red carpet looks. This yummy mommy has come a long way from her reckless partying days. She better WERK!!
The Glee actress and "Sorry" songstress went all Kim Kardashian and J.Lo on us last night. The stunning singer/actress worked it out in a long sleeved Michael Kors gown. The keyhole in the front left every male with their tongues wagging but the surprise was in the back when she turned showing another cutout in the back. Bringing the ensemble together were her vintage YSL gold cuff, earrings, ring and clutch, Jimmy Choo strappy sandals and her beautiful sexpot curls. Va va voom darling. She definitely was one of my faves that evening especially keeping it classy but sexing it up. The girls are sitting very nicely Ms. Rivera, Big Sean must be loving it!.
The "Bangerz" hit maker looked surprisingly covered up on last night's AMA's red carpet. The newly 21 year old singer looked classic in an all white Versus Versace tuxedo, black Saint Laurent heels and minimal jewels. The coat alone is priced at $595. I love her walking the carpet with her dad Billy Ray Cyrus. Personally love the look on the controversial performer, can't say the same for the outfit she wore for her performance.
The Oscar and Grammy winner walked the red carpet in an interesting get up. While I love the tangerine color against her skin, the dress seems unfinished. The Christian Dior "dress" looked unfinished thanks to the split it had going across her thigh to show off the pink lining underneath. Ms. Hudson hasn't really had luck in the fashion department lately but that hair cut gets tens across the board. Personally the dress would have been breathtaking if the "split" wasn't there at all. That pop of electric blue eye make up has me gagging at that beat face child.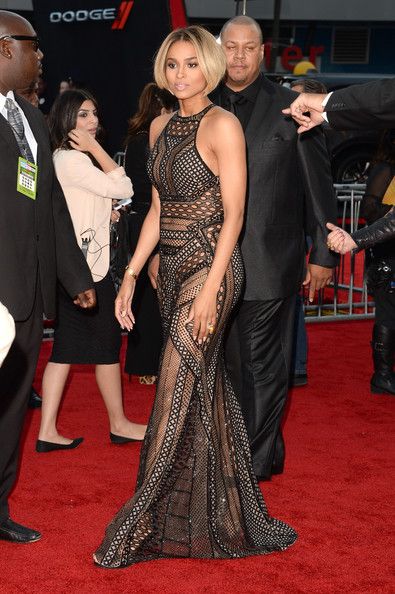 The "I'm Out" singer stunned in a sheer J. Mendel frock. But it has me thinking. . .haven't we seen this look and silhouette on the stunner multiple times before. She's giving me the same feelings I get everytime I see Sofia Vergara on the red carpet. The do say "If it's not broken, don't fix it." Her gown comes from the designer's 2014 Spring collection and rocks a halter neck line. Of course she looks amazing and I love the 90's throwback, extreme, blonde, ombre bob. She didn't rock much jewelry which is perfect seeing as it would have clashed with the gowns' design.
Ariana Grande
Everytime I hear the name Ariana Grande, my mind automatically goes back to the TeenNick show "Victorious" and the ditzy red head Cat Valentine. But don't be fooled people, last night the 20 year old took home the AMA for Best New Artist and won me over in this sequined Dolce & Gabbana gown with a semi sweetheart neckline. The floor length gown looked incredible on the songstress even as she performed in the same dress. Usually when I see her, she reminds me of a girl who is getting ready to celebrate her quincenera but last night she looked like a beautiful young woman. I do however wish she did something different to her hair, I've seen her hair like this at almost every award show she's been on.
My love for this groups is REAL ladies and gentlemen. They all looked amazing last night but can we please take a moment to gawk at the beauty that is Dawn Richards in this white Walter Mendez Collection gown. She is serving FISH in this dress and I love the thigh high split on her. Ms. Aubrey better work those twins sitting pretty.
What is there to say?! Actually I have a lot but what I am going to say is that they need to hire new stylist asap. While the 90's are coming back into play when it comes to stars and their clothing choices, these outfits are not hitting the right cords. I am a fan of outrageous shoe games, but T-Boz's boots don't really sit well with me. Can we have a redo please.
The "Sparkle" star decided to wear a Jovani Couture gown to the awards show last night. Yes the same designer who creates prom dresses and pageant gowns. Although the dress is cute, it does nothing to show off the singer's 50 pound weight loss. I do love the bodice of the gown but the black skirt just doesn't fit well.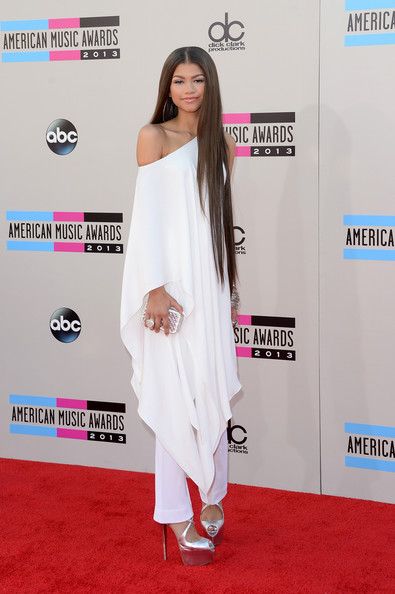 17 year old "Shake it Up" star Zendaya Coleman looked amazing last night as she wore an all white Donna Karan Resort 2014 pant suit with silver Christian Louboutin peep toe pumps. Her long tresses were parted down the middle and cascaded over her shoulder and back. The uber edgy looks showed off an off the shoulder tunic styled top and matching white pants.
Let's take a moment and pray for the sanity of rapper 2Chainz. I don't know what the hell was going on with this look. Someone on instagram said it best, "2Chainz rocked a shirt that looked like the hardest level of tetris." The rapper donned a colorful Versace shit and $1,050 Giuseppe Zanotti Yellow Tonal sneakers. I don't even know what to say.
Some of these rappers need to take lessons from Jay-Z when it comes to red carpet looks. As much as I love Tyga and his Last Kings appearel and his T-Raww sneakers, this sparkly Saint Laurent dinner jacket doesn't really sit well with me. Maybe it's really that dark orange/blonde curl peeking through his hat that's throwing me off. While he's still cute, he could use a major style overhaul when it comes to his awards show choices.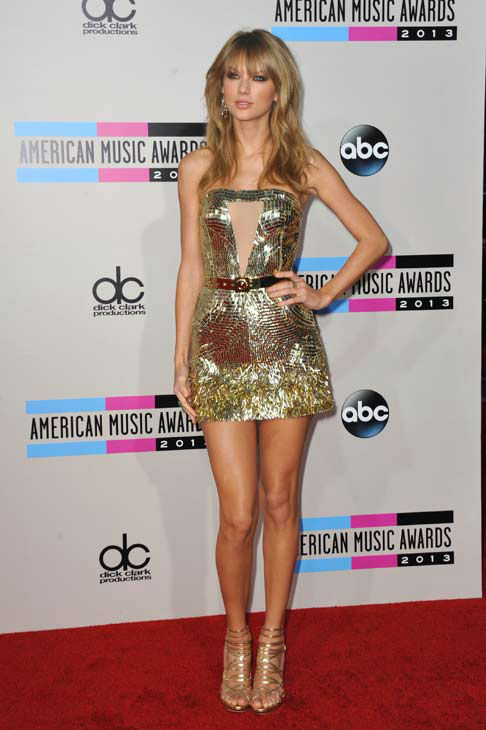 It's quite obvious that gold is probably one of Taylor's favorite colors so she rocked it last night to the AMA's. This time the "22" singer showed off her sexy legs in this Julien Macdonald mini dress. The gold embellishments popped against her fair skin with a sheer panel in the middle. Keeping the look together was a gold belt and matching strappy gold sandals. Loves it honey!!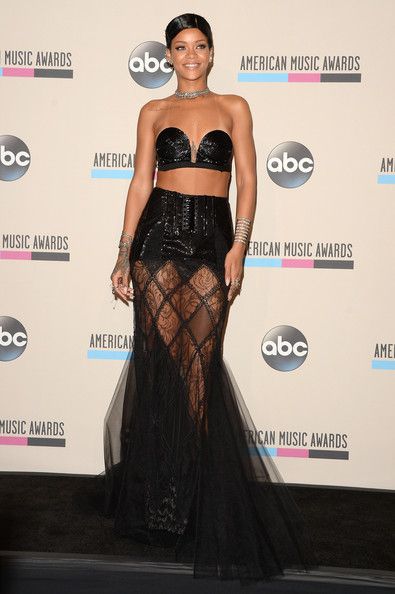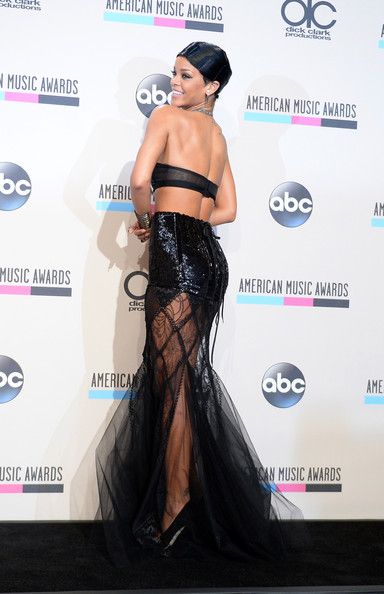 But the most talked about look of the night didn't make it onto the red carpet. Running a little late, the Icon Award recipeint, Rihanna stunned viewers in this two piece Jean Paul Gaultier haute Couture Spring 2013 outfit. It wasn't just her outfit of choice that stunned fans and viewers alike. Rihanna's hair -which many including myself call a doobie wrap- seemed to be the talk of all social media networks. Leave it up to the queen of Bad Girls to make this look so effortless. Gotta love her.
Kendall and Kylie Jenner
MC Lyte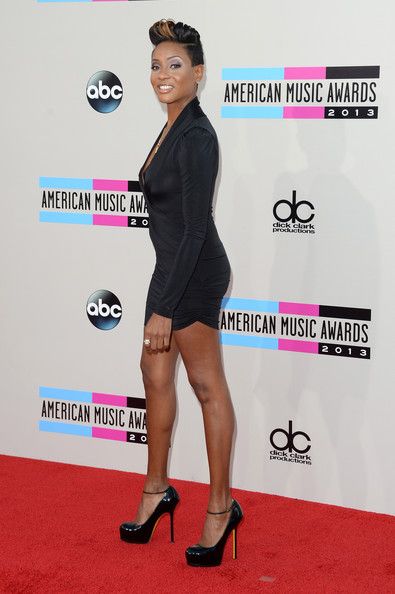 Rocsi Diaz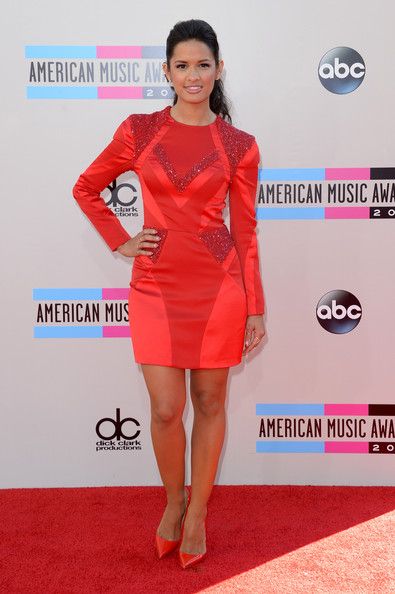 Jenna Ushkowitz
Christina Aguilera